Speaking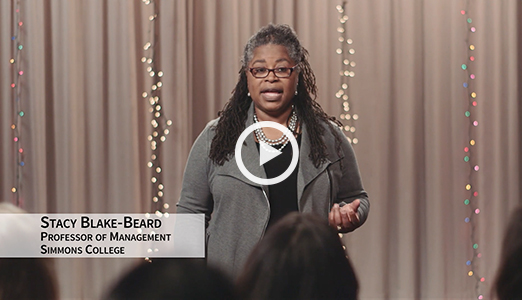 Mentoring: Creating Mutually Empowering Relationships
Stanford Center for the Advancement of Women's Leadership
While mentoring is often viewed as one person giving and the other person receiving, Stacy Blake-Beard, Professor of Management at Simmons College, defines mentoring as a mutually empowering relationship where both parties learn and benefit. Blake-Beard offers insight into the importance of developing mentoring relationships that are based in both similarity and difference – where individuals can build common ground and learn from their differences. She explores the challenges that come with navigating difference and addresses how to overcome roadblocks that can hinder individuals from giving and receiving critical feedback. She also discusses the role differential access can play in influential mentoring relationships and offers strategies for how to start effective mentoring relationships.
In her years as a consultant and scholar-practitioner, Stacy has built a reputation for being a warm, engaging, thoughtful, articulate and informed public speaker. From TEDx to Stanford University's Voice & Influence series to private speaking engagements for companies, nonprofits, governmental agencies and other organizations, she has a knack for connecting deeply with her audience, inspiring self-reflection, educating with a light touch, and winning over hearts and minds.
Stacy speaks on a wide range of topics, including:
Diversity

Mentoring

Gender

Uncovering unconscious bias
Strategic networking

Bystander awareness

Managing visibility

Teams
Stacy's speaking sessions draw on a variety of pedagogical and rhetorical tools and are always highly interactive. Whether she's speaking with 50 people or 500, the audience should be ready to be engaged. A scholar at heart, Stacy draws heavily on the literature and vetted bodies of research published in her areas of expertise, so her audiences always get well-grounded content and perspectives that are informed by contemporary dialogues about leadership, mentoring, diversity and inclusion.
In the spirit of audience engagement and connectedness, audience members leave Stacy's talks with a few gifts that are inspired by the sharing of wisdom that happened in the session. Most importantly, reflecting Stacy's belief in helping people put knowledge into action, audiences also leave with concrete lessons and tools they can put into practice to enrich their personal and professional lives.
If you'd like to talk about how I can help your organization and its people become the best they can be, please get in touch.